Welcome Gang!… or should I say…  Avast Ye Mateys and welcome to Week 5 of the Fiesta de Azucar.  This week is hosted by none other than yours truly where we sailed the seven seas (or at least a couple of them) and brought to you our Block 5 in the series – The Pirate.  I'm so glad to be a part of this summer celebration and share my inspiration with you which is all about honoring and celebrating family and choosing our own adventures in life (and sharing them with you of course).  So let's start this journey by showing you my block and telling you all about why I chose THE PIRATE.  (Pattern available on our Web Store or on Craftsy)
First let me introduce you to two of my favorite people… and the place where I always like to begin my stories about family.  This is Marian and Charles or as most people that knew them well liked to call them… Pat and Scrappy.  Pat and Scrappy are my Grandparents and I am most fond of them.  The best thing about Grandparents is… they are perfect.  Grandparents get to BE perfect that is.  They get to do all the fun stuff and make all the best memories and these two… well… they took the job super seriously.  I spent lots of time with these two from as far back as I can remember.  Days after school, all day in the summer, deep sea fishing trips and evenings out with their friends.  They were always a blast and I really enjoyed spending time with them. I am sure there were times when I got older that I chose to do other things… but I honestly can't remember a single time.  Isn't that funny how memories are?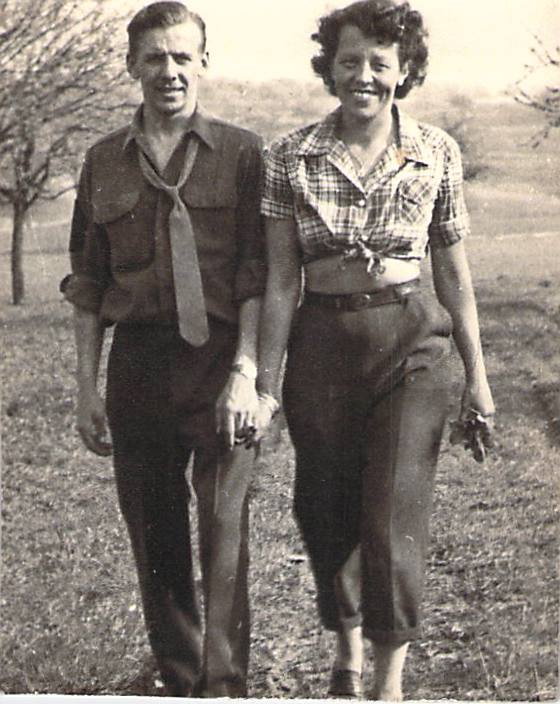 The best part about Pat and Scrappy was they had been on lots of adventures.  Scrappy was in the Army and they had lived in lots of different countries and cities.  Marian had lived on her own with Scrappy and without.  When there wasn't an actual adventure to talk about… well there was always a story.  Maybe it was a story from the past, maybe it was an old family tale or maybe it was a story we read in a book but there were no shortage of adventures.
Marian was a special force of nature.  She was never afraid of anything.  She always seem to know exactly what she wanted and didn't seem to care what anyone else thought about it.  She was one of the kindest ladies I knew.  She taught me to do so many things.  She sewed, knitted, canned vegetables, made her own jams and jellies, she even cleaned her own chickens.   She always told me I could do anything and be anything.  I use to sing at a dinner theatre because I knew that Marian and Scrappy would be terribly disappointed not to hear me belt out a tune every time they went to see a show.  I use to show horses when I was younger (something Marian and I had in common) and once before a show I was accidentally thrown from a horse and refused to get back on… it was Marian that encouraged me to face my fears and get back on that horse to compete that day.  I remember being super scared but Marian whispered in my ear that this was the first of many times that I would be afraid and I needed to learn to climb back up there and show life that I could handle it… even if I was afraid.  I climbed back on the horse and competed in that show that day and I did win.
Many times in my life Scrappy and Marian used to whisper to me that I should take every opportunity to have adventures, to take chances, to try harder and to dream bigger.  They never missed a horse show, a chorus or band concert or Grandparents day… not EVER!  They always said not to worry about what other people had to say about your dreams.  Choose your own path in life and follow it.  Choose your own adventures.  If you see something that you want… you need to take the bull by the horns and grab it.  Life with them always seem to be filled with laughter and lots of fun.
I have never let their voices fade.  Over the years, after every bad day, every snarky comment, every so so sale day… their words have resonated in my ears.  I have said those same things to my own children many times.  We choose our own adventures in life.  I choose mine every day.  I like to think that I take what I want out of life … kind of like a pirate…. with a little less pillaging that is.  Hubs and I like to take life as it comes, make our own adventures and laugh as much as possible.
There is quite a bit of symbolism in my block.  I have a ship that has set sail for adventure.  It has plotted a course and set a goal.  It almost always won't be in a straight line but at least I know where I'm going.  The steering wheel means I am in control of the helm.  I always know where my anchor is.  I may get some scars along the way but there's always Rum.  Occasionally you have to take some risks so you might have to cover one eye and maybe even spend a little money but hopefully there is a treasure in the end.  The octopus if there for several reasons.  What better way to hold on to your family than with 8 arms.  LOL.  Also, the octopus is an amazing creature.  It is incredibly adaptable, sometimes lethal and super great at getting out of impossible situations.  The final reason I added that amazing creature is that I am determined that one day I will see one in the wild.  You see …
… my family… we love a good treasure hunt.  We spend a lot of time in the Caribbean as we are all certified SCUBA divers and maybe… maybe just a little bit of a pirate family. Here are a few photos shared from our latest adventure earlier this month at the start of the Fiesta de Azucar. These pictures were taken in Marquesas Keys and various dive sites in the Key West Marine Sanctuary July 2017.
Who knows… some day we may sail off into the Caribbean never to return but until then… you can find me living it up in Virginia designing patterns and books (mostly on scrap quilting), manufacturing English Paper Piecing and other templates and lecturing and teaching quilting at guild and shows.  I hope you will stop by the website and check out all we have to offer and stop by next week to see what our next designer Tammy has to say about her inspiration for Block #6.
Full instructions for Block #5 The Pirate Block can be found on our online Web Store by CLICKING HERE or on our Crafty shop by CLICKING HERE or by searching for Fiesta de Azucar on Craftsy.
Choose your own adventure and have fun.   Oh… and if you happen to see me or my delightful husband around town today… wish us a Happy 22nd Anniversary… because we just happened to married today on, of all things, a tall ship in the middle of the Chesapeake Bay.  Cheers.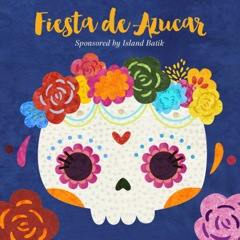 Here is a list of all of the participants in the Fiesta de Azucar.  Each week we will update the list with links to the blog posts where you can find their blocks.
July 1 – Block #1 – (Cohost) Terri Sontra of Purple Moose Designs
July 8 – Block #2  Joanne Hillestad of The Fat Quarter Gypsy
July 15 – Block #3 – Vicki Hansen of Cranberry Pie Designs
July 22 – Block #4 – Cheryl Sleboda of Muppin.com
July 29 – Block #5 – Penni Domikis of Cabin in the Woods Quilters
Aug  5 – Block #6 – (Cohost) Tammy Silvers of Tamarinis
Aug 12 – Block #7 – Kate Colleran of Seams Like A Dream
Aug 19 – Blocks #8 – Susan Emory of Swirly Girls Design
Aug 26 – Block #9 Trisha Frankland of Quilt Chicken
Sept 2 – Border Option #1 – Tammy Silvers of Tamarinis
Sept 9 – Border Option #2 – Terri Sontra of Purple Moose Design
Join us Every Saturday for a new block.
Happy Quilting
Penni